The long-awaited, highly anticipated showdown between UFC light heavyweight champion
Jon Jones
and former titleholder
Rashad Evans
will take place on April 21 in Atlanta, the promotion announced Monday night on its website.
Jones and Evans get to settle their differences in the main event at UFC 145. The card will also feature a bantamweight tilt between former WEC champion
Miguel Torres
and fast-rising
Michael McDonald
.
Jon Jones, right, seen kicking Lyoto Machida in December, is finally getting his chance to fight former sparring partner Rashad Evans.
But the overwhelming majority of attention will center on Jones and Evans. The two former teammates have had an ongoing war of words since March 2011, when Jones, shortly after defeating
Mauricio Rua
to claim the 205-pound title, revealed he would be willing to defend the belt against Evans.
Interestingly, Evans was slated to face Rua for the title, but a knee injury suffered during training camp forced him to withdraw from the bout. That opened the title shot to Jones, who had helped Evans prepare for Rua.
Evans had vowed that he would never fight Jones, his teammate under the tutelage of trainer Greg Jackson in Albuquerque, N.M. He considered moving to middleweight or heavyweight to avoid such a confrontation. But Jones' revelation offended Evans, prompting him to part ways with Jackson.
He now trains in Boca Raton, Fla., at Imperial Athletics.
"One thing about Jon is he is fake, he is not real," Evans said in November. "We had a pact and he violated that pact. When you violate a pact, there's no way I can ever work with you again.
"I never have said I would fight Jon. I was even getting flak from (UFC president) Dana White that I wouldn't fight Jon."
The two former sparring partners eventually agreed to fight Aug. 6 at UFC 133 in Philadelphia. But shortly after the fight was announced, Jones suffered a hand injury that forced him to pull out of the bout.
Injuries and poor timing continued to prevent Jones and Evans from settling their differences inside the cage.
[+] Enlarge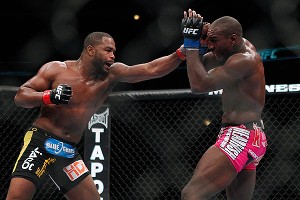 With this win over Phil Davis, Rashad Evans, left, did his part to pave the way for a long-awaited fight against Jones.
But each man would continue to pile up victories, with Jones (15-1) defending his belt twice with stoppages of former champions
Quinton Jackson
and
Lyoto Machida
.
Evans (17-1-1) defeated ex-champion
Tito Ortiz
on Aug. 6 and previously unbeaten contender
Phil Davis
on Jan. 28 in Chicago. The unanimous decision win over Davis put Evans in position to finally face Jones.
But the champion was unimpressed with Evans' performance against Davis.
"Judging by the performance, I don't know if I can consider him a wolf," Jones said of Evans. "I think that's going to be the biggest difference in the fight, my youth, my ambition, my drive, my creativity.
"Rashad's been fighting for, I don't know, maybe eight years," he added. "Many of the years, he trained with the coaches that are coaching me to beat him. I definitely didn't see any progressions. I feel like he's coming down the other side of the hill. Even his body looked softer."